Benchtops To Give Your Kitchen a Facelift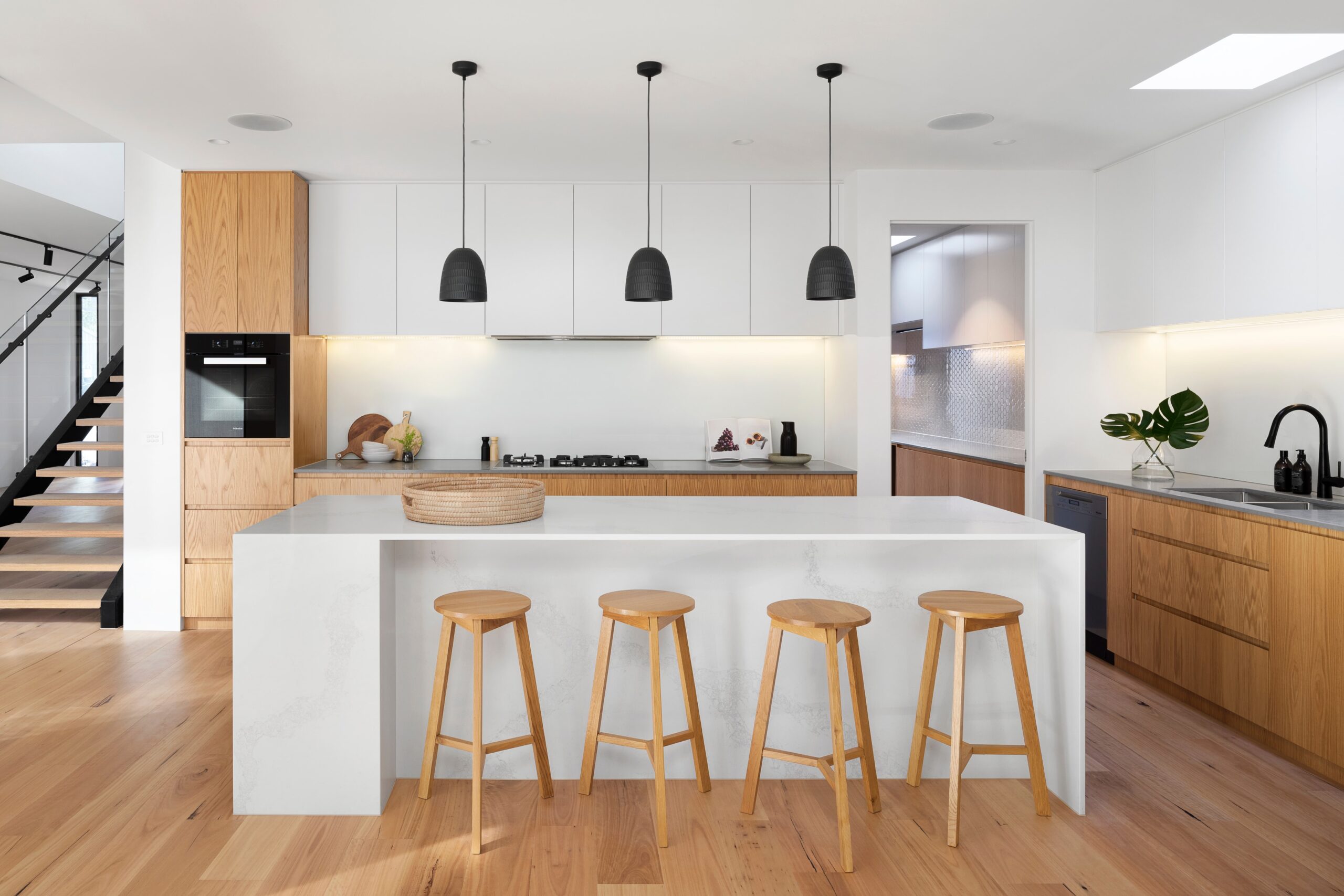 One of the easiest ways to give your kitchen a facelift is to replace the benchtops. This will give a fresh new look to the kitchen without spending all of your savings. There are many options of materials and colours, so we can help you find something that suits your existing kitchen. Here are some details of our products available for kitchen benchtops.
Corian
Corian is a unique material made from natural bauxite and acrylic binder. The material is non-porous which is a very practical characteristic for a kitchen benchtop and in turn makes this popular material stain resistant. Corian can also be commonly used for splashbacks instead of glass as it is such a tough and resistant material. Being stain resistant and easy to repair means they are ideal to be around hot appliances and food for example, a stove. Corian is one of the most versatile products on the market because it can be easily shaped to any surface, and the UV resistance means it can also be used for outside kitchens.
Staron
Staron is a man made acrylic product, and as a result is completely resistant to mould and bacteria growth. Available in many colours, Staron is a non-porous material that won't absorb spills. Staron is ideal for kitchen facelifts as it can be moulded to any shape or including sharp edges, creative designs, unusual sculptures, and splashbacks. Easy to clean, simply use a damp cloth or sponge to maintain the surface of Staron, if needed use a mild detergent or glass cleaner. An important feature of Staron is it's a completely renewable product. After years of use it can be sanded back to its original condition, giving your kitchen a fresh new look for years to come.
Natural Granite
If part of your kitchen facelift is making a feature in your kitchen, look at Natural Granite. Natural products give a feeling of luxury and make a statement as no two are the same. There are endless colours and textures to choose from so we can find a product that suits your aesthetic.
As these products have been naturally formed over hundreds or thousands of years, they are proven to be a tough material that will stand the rest of time. Natural Stone is porous and is likely to stain if not sealed properly. This will need to be done regularly to ensure your benchtop is maintained..
Reconstituted and Engineered Granite
Reconstituted or Engineered Granite is made up of crushed natural granite that is sealed together with an acrylic. The make up of reconstituted granite means it has considerably different properties than natural granite. As a result, it is significantly lighter, non-porous, resistant to scratches and chips, and is more affordable. You can be confident you have a lasting benchtop with our products from Silestone or Caesarstone. A limitation with reconstituted granite is the sizing. It is manufactured in sheets so there may be restrictions on what sizes it is available in. 
Laminate
Laminate benchtops are our most affordable option. They are available in a wide range of colours, textures and lookalikes giving you the luxury look without the price tag. While laminate benchtops are an affordable option, they are also prone to scratches and wear and tear over time. You will need to be careful of water seeping into scratches as this can create water damage to the surface. 
To discuss your options for a kitchen facelift further, contact our friendly team at Hollywood Kitchens. We will help you choose the right material and colours to suit your existing kitchen. With quick and easy installation, we guarantee your experience with Hollywood Kitchens will be seamless. Take a look through our gallery for some inspiration.
By Paul Wilson
Feb 22nd, 2021