Doors
Don't judge a room by its doors… make a statement!
Doors are one of the least considered pieces when renovating. People tend to overlook the door because what's important is behind it.
We at Hollywood Kitchens think a door is an essential part of completing the overall look of a new kitchen or bathroom. The door is the first thing you see, if it has horrible scratches and dents, it's about time you change it. Even if you're not renovating, a door can change the look of a house or area.
We strive for the highest quality with all our projects from the tile grouting to the silicone sealing and doors are no exception to this excellent standard.
Some doors are manufactured at our own factory while others are sourced from reputable industry partners.  Either way, you will receive a door that will adhere to your standards.
The doors we have available are: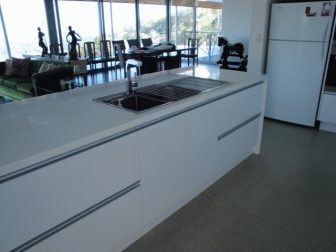 Hi-Gloss Lacquered Doors
Produced in our own factory, our high quality lacquered doors are a stylish addition to your home or office.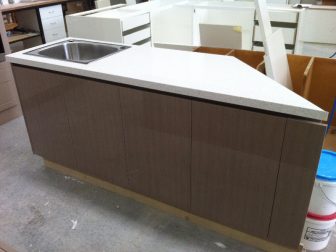 Pre-Finished Doors
Laminate is a hardwearing decorative surface suitable for both horizontal and vertical interior applications
We use laminated board for our pre-finished doors offering a large range of colours and finishes to suit your budget and style.
Pre-finished doors are a laminated door with either a melamine edge or a 1mm ABS edge. The colours, textures and patterns allow you the design and look that you want.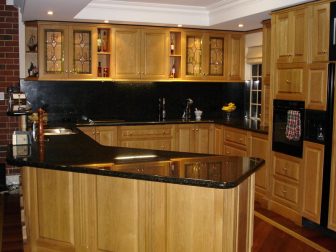 Timber Doors
Timber doors come in a range of timbers and styles including Jarrah, American oak and Tasmanian oak.
At Hollywood, we strive for quality workmanship crafted by quality cabinetmakers. All timber doors come in a range of styles with flat board or solid timber edges.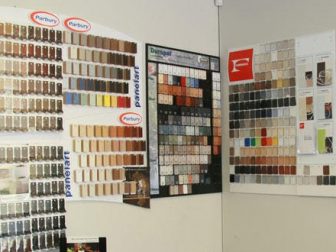 Vinyl Wrap Doors
Hollywood Kitchens provide a "Polytec" range of doors.
Vinyl doors come in a vast range of colours and styles, whether it be modern or traditional we can suit your individual needs.