Add a Pop of Colour to Your Kitchen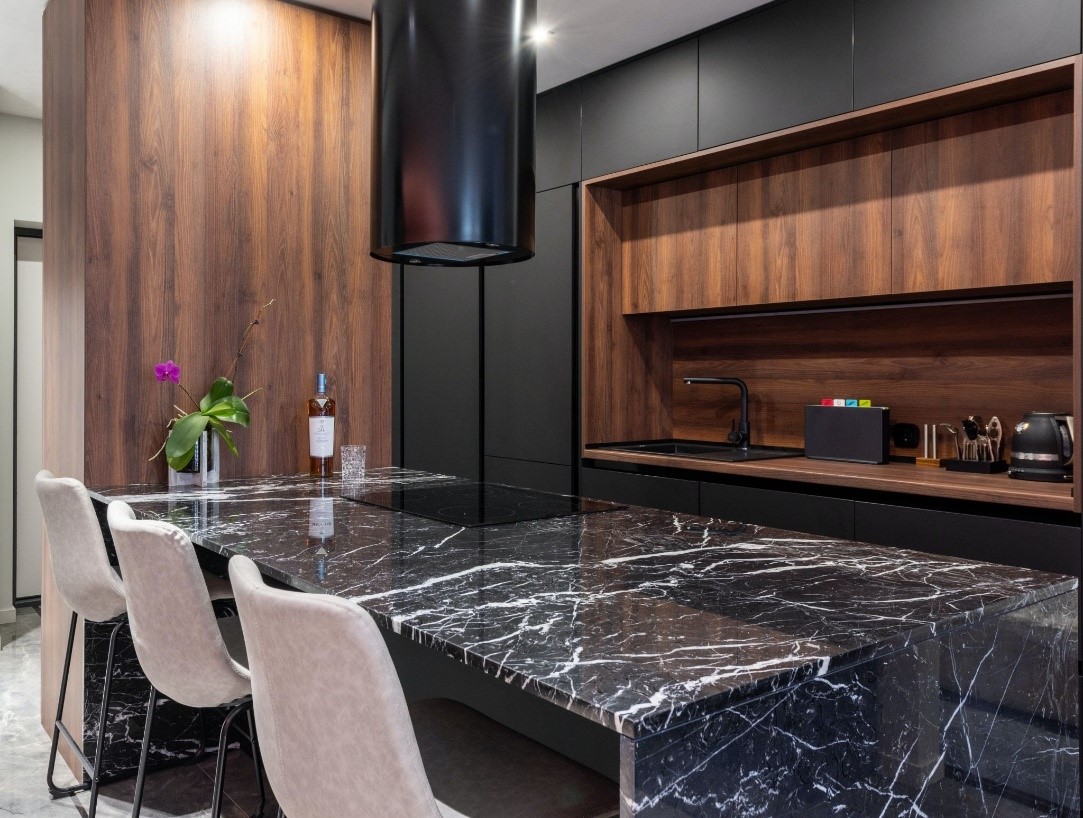 A kitchen is the centre of a house, which is why it's important to make it feel warm and welcoming. One of the easiest and quickest ways to do this is by using a well thought out colour scheme. If you don't know where to start, our Hollywood Kitchens experts are here to help. With over 40 years of experience, we have worked on every size and type of kitchen with every colour combination – we know what works and what doesn't.
From benchtops and cupboard doors to accessories, there are many ways which you can introduce colour – let's explore them.
Make a statement with a bold benchtop.
The best bit – benchtops are generally easy to replace if you want to refresh the space without having to do a whole kitchen remodel.
Marbled table tops
Although bench tops aren't typically bright in colour, choosing a marbled or speckled material can add a touch of coloured texture the space needs. A black-based marble with light veins gives a unique and bold look. This is commonly used to create a feeling of luxury and extravagance.
Timber table tops
A bench top made of timber, especially one with a dark tone such as walnut, is a perfect addition when you're after an interesting focal point in a kitchen. Walnut wood works best with a minimalist interior design of white, and hints of black or grey. You can opt for timber table tops with clear, defined grain patterns for a more dimensional appeal. Timber table tops also add a pop of colour when the rest of the kitchen elements are made of stainless steel and glass.
Painted island table top
Painting the body of the island table top is also a great way of adding a pop of colour to your kitchen. It's also a quick solution when you want to upgrade the look of the area. For classic kitchens with wooden floors, white walls and stainless steel fixtures, a blue paint is perfect to achieve a striking contrast.
Play around with shelves
Playing with shelving is a quick and easy way to add a pop of colour. There are so many ways to use shelves to add colour in the kitchen, and your imagination is the limit.
Paint the back of the shelving.
By painting the back of the shelving, a dash of colour is visible without it being too overpowering. For a 'wow' effect, use a paint colour that contrasts the major colours in the kitchen. So, if your kitchen is in dark colours, paint the back of the shelves with light and bright colours.
Display bright items.
If you're not quite ready to take the plunge and paint, displaying bright items such as vases, mugs, flowers, spices, and pots is a great way to add colours to your kitchen. This is a great solution if the kitchen theme includes bold, solid colours or in dark neutrals of brown or grey.
Opt for containers with the same colours.
Another temporary solution but that requires some time to set up (and can be a bit messy) is using colour coded containers for colours for your spices, condiments, dried herbs, and other kitchen essentials. Put them up on your shelves to give your kitchen a pop of colour and for easy access as well. Dark themed kitchens can make use of containers in opaque white or in neon or fluorescent hues while white or light-coloured ones can have containers in black, dark and/or bold colours. The containers don't have to be in the same sizes, the variety in sizes and shapes can add a dimensional look to the overall interior design.
Install floating shelves.
When you have bare walls in your white or light-coloured kitchen, consider installing floating shelves. These are inexpensive and easy to build. They are also surprisingly strong despite having no visible supports. Commercially available floating shelves are usually made of wooden planks and come in yellow to dark chocolate colours, which are perfect for adding interesting hues in white kitchens. You can also make your own shelves and paint them in bold colours that pop out against the overall colour of your kitchen.
Change your furniture
Swap your existing bar stools or chairs for something a little brighter. If you have the time and skills, you can even up-cycle or paint the existing ones. If you want to make a big statement, add a matching table.
There are so many colour combinations to choose from when it comes to adding a pop of colour to your kitchen with painted furniture. If you want to add some colour and just don't know where to start, take some inspiration from these colour combinations. There is something to suit everyone and every style!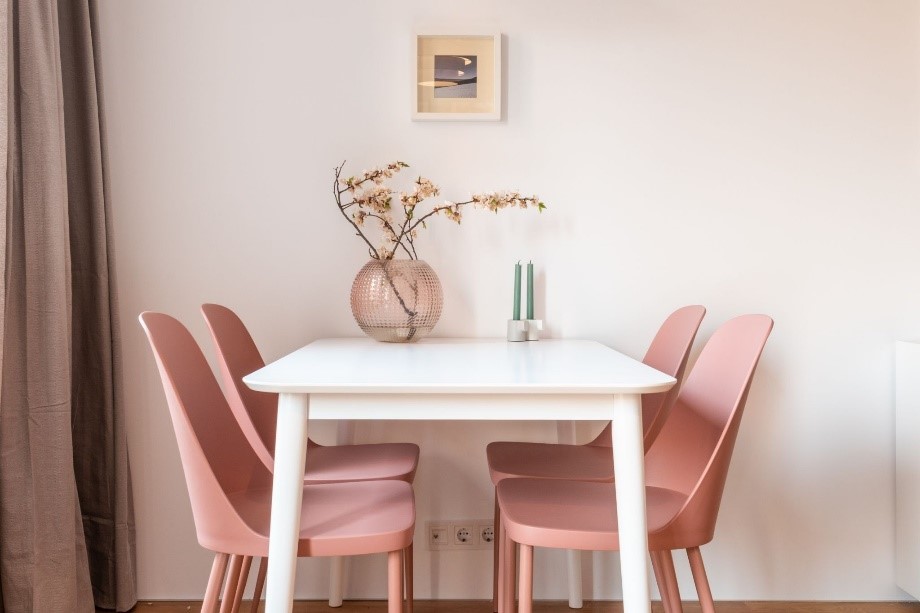 Some of the most popular colour combinations are:
Black and timber give kitchens an industrial chic imagery,
Blues and greys are both timeless and classic,
Light grey creates a Nordic-inspired kitchen design.
Navy and cream create a coastal chic appeal,
Olive Green and champagne express understated sophistication, and
White and timber exude a soothing Scandinavian design
For a more contemporary colour combination, you might want to consider these trending colours.
Baby blue softens up the kitchen space
Black and white are always a classic combination that never goes out of style
Duck Egg Blue provides cool tone that create space
Eggplant colour exudes class and elegance
Green colours ranging from soft sage to dark moss add life to the kitchen
Navy blue creates a relaxing ambiance that's cool to the eyes
Pink in various tones give a cheerful ambiance
Teal provides a calming vibe
Zesty orange is considered the hottest hue for 2021
Draw attention to the accent wall
An accent wall has different colour, pattern or shade from the surrounding walls. It's basically put up in order to add a decorative effect where it might be looking dull or to draw attention to an often overlooked part of the room. If there's not enough wall space in the kitchen, the wall with windows can be a good choice. Furthermore, in an open floor plan, you can opt to have the accent wall adjacent to the kitchen.
Painting your kitchen's accent wall in bold red or blue is an old-fashion method, but for a more contemporary appeal you can opt for patterns such as stripes or paint with special finishes such as metallic ones that sparkle. You can even add a pop of colour to the kitchen by using wallpapers, wood planks or even tiles for your accent wall. On the other hand, kitchens in neutral colour scheme can achieve a dramatic look with a dark brown accent wall.
Breathe life into the kitchen with plants
Indoor plants are great for adding a pop of natural colours in your kitchen while having the flexibility to change the overall interior look every season if you want to. For a splash of colours other than green, opt for indoor flowering plants such as bromeliad, flamingo lily, and lipstick plant. Succulents and cut flowers are also viable options.
Give the cupboards a makeover
Cupboards are a major feature in the kitchen, and are a great opportunity to add a splash of colour on them if you have a monochromatic or neutral coloured kitchen. You can paint the entire cupboard with the colour of your choice. Alternatively, you can opt to just add bold colours on the door frames or a part of the door.
Add a new twist to your floors
When it comes to using the floor to add a pop of colour to your kitchen, the possibilities are endless. It can range from simply adding a colourful rug to entirely changing the flooring material. When you want to do a major makeover, consider having terrazzo tiles, these are becoming a new trend. Aside from the coloured marble chippings that give terrazzo tiles a textured appeal, these tiles also come in different colours such as green, yellow, blue, pink, white and black. Therefore, there's always a colour you can use to make your kitchen more interesting.
Other ways to add a pop of colour in the kitchen
Here are more ideas to give your kitchen a splash of colour:
Sticking wall decals in solid colours such as silhouette of animals, plants, and other shapes of your choice
Installing light fixtures in colourful designs such as a traditional gold fixture in intricate designs or a sleek, modern one in bold colour
Hanging abstract paintings in bold colours with solid frame
Using colourful curtains, drapes, or blinds
Displaying colourful cookware or dining elements
Displaying bright linens and aprons; or
Changing ordinary cupboard knobs and other kitchen hardware with colourful, artistic ones
Let the renovations experts help you!
Get in touch with us at Hollywood Kitchens and we can help you decide on what is best for your space and style. We have multiple ways of improving not just your kitchens but also bathrooms, laundries and even commercial shops. We can provide a full makeover for your spaces to suit your taste. We can also provide a custom-made, flat-pack form of cabinets for your DIY needs. Talk to our renovations and fitouts specialists today.