About Us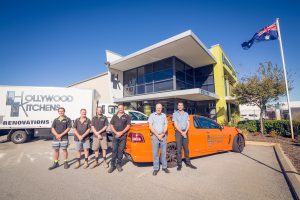 Hollywood Kitchens is a family-run business with a total dedication to quality. Owned and operated by Paul Denton since 1980, the business has since grown to include his sons, Shane and Ryan, and a team of talented craftsmen.
When you first contact Hollywood Kitchens, we'll invite you to visit our purpose-built showroom, where you'll meet with designer Shane Denton to discuss your ideas and receive a free quote.
Then it's on to factory manager Ryan Denton, who oversees the entire machining and production process. With our all-inclusive service, all work is completed in house. From planning and design through to completion, the skilled Hollywood Kitchens team take care of everything.
Renovating residential kitchens, bathrooms and laundries, Hollywood Kitchens is a certified member of the National Kitchen, Bathroom Association and the Housing Industry Association of Australia.
Take a look at what others are saying about their kitchens, then contact us today to find out more, or visit our showroom today.